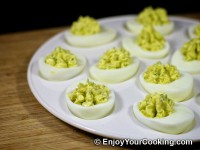 Blue cheese and boiled egg yolks seasoned with fresh parsley, tobasco sauce and mayo tastes a bit unusual and a bit spicy. But if you are true lover of blue cheese this recipe is definitely for you.
By the way if you like it to be more spice – use a bit more tobasco sauce, or you can skip the sauce all together otherwise.
If you would like eggs to look a bit more festive, use pastry bag with a star tip on it to arrange stuffing mix into egg halves, simple ziplock can be used too (just staff mix into it, seal it and cut one of tips off), or just a tea spoon.
Ingredients:
6 eggs
1-1.5oz of blue cheese crumbles
Small bunch of fresh parsley
1/4 teaspoon of tobasco sauce
1.5-2 tablespoons of mayo
Ground black pepper to taste
Salt to taste
How to prepare, step-by-step:
Enjoy!