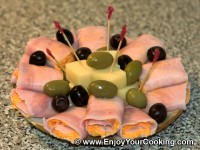 Got ppl coming over in a 20 mins and got nothing to bite? Make a ham rolls stuffed with fresh carrot & garlic salad.
Easy and fast! Tastes better when accompanied by beer and TV.
Ingredients:
3-4 middle size fresh carrots
1-2 cloves of garlic
Mayonnaise
Salt by taste
7-10 not thin slices of ready to eat ham (you may use turkey or chicken breast slices, smoked, roast or baked, any kind you like more).
How to prepare, step-by-step:
6 Responses to "Ham Rolls With Fresh Carrot Stuffing"