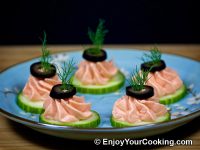 Quick recipe for an appetizer you can put together on a minutes notice (if you have ingredients of course): salmon and cream spread.
Once ready, you can set it up on cucumber slices, or crackers you like. Or in less fancy fashion (and also quicker) spread it on a bread toast.
I used hand blender to here, because I wasn't sure how my cup blender will react to not-so-liquid mixture. Either one you plan to use, just make sure cream cheese and salmon are well blended into homogeneous mixture.
Ingredients:
Smoked salted salmon 5-6oz
1 pack of cream cheese (8oz)
English cucumber or crackers or bread (your choice)
Dill for decoration (optional)
Sliced black olives for decoration (optional)

Tools
Hand or stand blender
Pastry bag with star attachment (optional)
Mandoline (if using cucumbers)
How to prepare, step-by-step:
Enjoy!