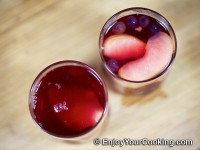 This recipe gives me another chance to advertise the benefit of homemade drinks over store sold soda full of sugar and god knows what else: making drink for yourself gives you control over how much sugar it has exactly.
Blueberries, blackberries, raspberries are nice choice for this kompot, strawberries are nice addition too. I used frozen berry mix – it is cheaper and easier to get, however fresh berries will work the same well.
Fruit and berry kompot taste great warm, or cooled down to room temperature, or iced, whatever you prefer more. Fruits from the kompot taste great too, you can serve them with or without kompot.
Ingredients:
2 apples
2 pears
8-12oz of berry mix (frozen or fresh): blueberries, blackberries, raspberries, strawberries
1/2 cup of sugar (more or less to taste)
3qt of water
How to prepare, step-by-step:
Enjoy!