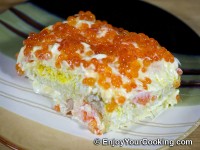 This salad is often referred to as "Shrimps Under Fur Coat" salad, here two shrimp layers are dressed in layer of grated potatoes, eggs, mayo and topped with red caviar.
I know red caviar is not something people here buy and eat all that often, but if you decide to try this salad I suggest to get caviar from the local european or russian store.
This salad needs some time to settle down after assembling, so prepare it at least 6 hours prior to serving.
Ingredients:
1.5 pounds of frozen boiled shrimps
4 eggs
2-3 idaho potatoes
About 5oz of red caviar
5 bay leaves
10 black peppercorns
3-5 allspice corns
Salt to taste
Mayo
How to prepare, step-by-step:
Enjoy!