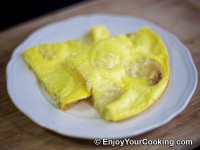 Perfect recipe for breakfast or brunch, especially on a weekend.
Summer squashes or zucchinis or a combination of these will work for this recipe. One or two, depending on their size and size of skillet you use. You will need just enough to form a single layer.
I used italian blend of cheeses, it worked perfectly. Other cheese or combination of cheese to your liking will work as well.
Ingredients:
1 medium or 2 smaller summer squashes
4 eggs
2 tablespoons of sour cream
1/3 cup of shredded cheese
2-3 tablespoons of flour
Pinch sugar
Salt to taste
Butter
How to prepare, step-by-step:
Enjoy!