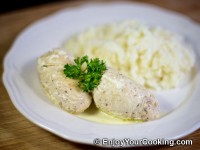 This is interesting recipe for a holiday or romantic dinner: tender chicken rolls stuffed with oranges.
Small orange segments are easier to wrap, so try to find small oranges. It is also important that oranges are not bitter and don't have seeds.
Chicken rolls stuffed with oranges taste great when paired with potato side(s), for example with mashed potatoes.
Ingredients:
1.5lb of chicken boneless skinless meat
1-2 small sweet oranges w/o seeds
1.5-2 cups of heavy cream
2 tablespoons of oil
3 bay leaves
Herbs mix for poultry (optional): thyme, marjoram, rosemary, to taste
Ground black pepper to taste
Salt to taste
Mayo
How to prepare, step-by-step:
Enjoy!
2 Responses to "Chicken Rolls with Oranges"