Crabsticks, Beans, Tomato, Bell Pepper and Cheese Salad
January 11th, 2014 in Salads by Julia Volhina

Total cooking time:

20min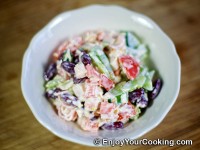 One more salad for holiday table: lighter salad with crab sticks, red beans, tomatoes, bell pepper and cheese. It is pretty fast to make because doesn't require any prep work: nothing to boil or cook prior to assembling.
I used italian blend of shredded cheese, but any hard cheese you like will work. If you have whole piece of cheese, you can dice it instead of shredding.
Adjust amount of garlic to your liking, if whole clove seems a bit too much use only half of it.
Ingredients:
16oz can plain red beans
8oz of tomatoes
8oz of crab sticks
1 green bell pepper
3/4 cup of shredded cheese
1 small garlic clove
Mayo to taste
Salt to taste
How to prepare, step-by-step:
Enjoy!