Shrimp, Lettuce and Egg Salad Recipe
January 4th, 2014 in Salads by Julia Volhina

Total cooking time:

30min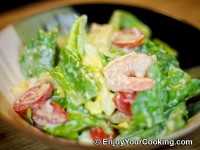 This unusual combination of ingredients yields pretty interesting salad. And it tastes best then prepared right before serving.
Original recipe calls for 10 quail eggs, but I find them somehow hard to find here, so I used 2 chicken eggs as replacement.
Pineapples themselves are optional ingredient, you can skip on them if you wish so, but with them salad tastes more interesting.
Ingredients:
8oz of cooked shrimps
4-5 leaves of lettuce
20-25 grape or cherry tomatoes
2 chicken or 10 quail eggs
4 slices of canned pineapples (optional, to taste)
2-3 tablespoons of grated parmesan
3 tablespoons of mayo
1 teaspoon of ketchup
1/2 cup of canned pineapple juice
1 tablespoon of lemon juice
Salt to taste
How to prepare, step-by-step:
Enjoy!Die Tatsache, dass Pornografie dem normalen Sexualleben schadet, wurde zum ersten Mal in der Ära der schnell wachsenden Popularität der plastischen Chirurgie erwähnt. In der Tat werden nur Damen mit einer idealen Figur für Pornos rekrutiert, und die Silikonbrüste tragen nur zu diesem Trend bei. Immerhin, nach dem, was Sie auf dem Bildschirm sehen, wollen Sie nicht mehr ein gewöhnliches Mädchen ohne Brüste. Um die Freude an der Verführung echter Frauen zurückzugeben, sollten Sie auf das Video von Homesex mit dünnen Frauen achten.