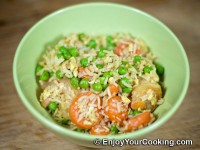 One more recipe for fried rice, this time with shrimps.
As any fried rice, it is pretty easy and fast to cook, especially if you use frozen vegetables, just don't forget to unfreeze them as well as shrimps in advance before cooking.
Most of the salt for this recipe comes from soy sauce, only eggs need a bit of additional salting.
Ingredients:
8oz of cooked shrimps
1 cup of basmati rice
8oz of frozen or fresh carrots
8oz of frozen or fresh peas
2 eggs
4-5 tablespoons of soy sauce
2 tablespoons of sesame seeds
1 tablespoon of vegetable oil
1 teaspoon of crushed red chili pepper flakes
Curry powder to taste
Salt to taste
How to prepare, step-by-step:
Enjoy!