Chicken and Mushroom Salad
December 21st, 2013 in Salads by Julia Volhina

Total cooking time:

45min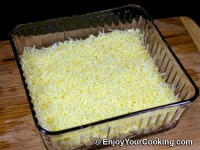 It is a holiday season. In slavic world rare holiday table will go by without tons of salads, actually none will.
This is why I will try to focus on salad recipes these couple of week (as much as I can, during with my vacation to Ukraine).
This salad recipe calls for just few ingredients: chicken, mushrooms, eggs and mayo are main ingredients. And there is no onions or garlic, which makes this salad a good choice for lunch on a go.
Ingredients:
1lb of boneless skinless chicken breast
12oz of mushrooms
4-5 eggs
4-5oz of shredded cheese (I used italian blend)
Ground black pepper to taste
Salt to taste
4 tablespoons of mayo, or more if needed
1-2 tablespoons of vegetable oil