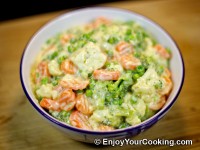 Vegetables with cream are pretty easy to cook and they make a great side dish for meat or poultry. It can also be served as a no-meat course.
I used carrots, broccoli and cauliflower florets with peas for this recipe, but it will also work good with green beans, zucchini, brussels sprouts, whatever you have on your hands.
The same, you can use either fresh vegetables or frozen ones, or a combination of these. For example, for this recipe I used fresh broccoli and cauliflower with frozen sliced carrots and frozen peas.
Ingredients:
Sliced carrots, about 10 oz
Peas, about 10 oz
Broccoli and/or cauliflower florets, about 10 oz
1.5 cups of cream
1 tablespoon of flour
Ground black pepper to taste
Salt to taste
How to prepare, step-by-step:
Enjoy!