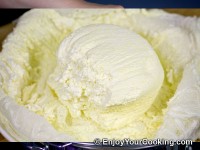 This is a bit more time consuming way to prepare quark (fresh cheese) than the one from kefir, it it is also a bit cheaper.
Usually you would just leave unpasteurized milk in warm place for a day or two to sour. But since all milk sold here is pasteurized, it needs some help to get sour, this is why we will also use kefir or cultured buttermilk.
Whole milk will produce tastier cheese, so I suggest using whole milk. I use Snowville Creamery milk for my recipes and it works great every time.
This amount of ingredients will produce about 1.5lb of fresh cheese.
Ingredients and Tools:
Half gallon of whole milk
1 quart of plain kefir or cultured buttermilk
Cheese cloth
How to prepare, step-by-step:
Enjoy!
Tip and Advises