Shrimps, Mushroom and Rice Salad
June 21st, 2014 in Salads by Julia Volhina

Total cooking time:

1h 30min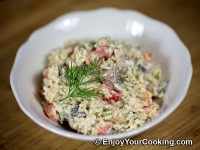 This isn't one of the recipes I usually cook, but it kind of puzzled me when I saw a recipe, so I had to try it.
It turned out pretty nice, somewhat unusual taste but quite interesting.
I used shrimps, presented in last week recipe this recipe, but I think store purchased pre-cooked shrimps will work well for it as well.
Prepare Ingredients:
1lb of boiled shrimps
0.5lb of mushrooms
Boiled rice made from 0.5 cups of dry rice
1 onion
1 bell pepper
Bunch of fresh dill
Juice of 1 lemon (3-4 tablespoons)
0.5 cup of mayonnaise
2 tablespoons of ketchup
2 tablespoons of soy sauce (optional)
Ground black pepper to taste
Salt to taste
Oil
How to prepare, step-by-step:
Enjoy!
2 Responses to "Shrimps, Mushroom and Rice Salad"