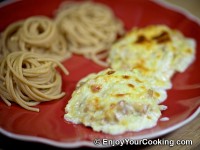 Interesting and I would say unusual recipe: chopped chicken meat patties baked in garlicky cream cheese sauce. Great choice for romantic or family dinner.
I used chicken thighs meat for this recipe, it seem juicier and tasty to me, but breast meat will work as well. As for cheese, it is italian cheese blend, but if you like something else – it would probably work too.
If meat mince consistency is watery, forming patties may get tricky, just use two spoon to ladle and shape them, otherwise use hands.
Ingredients:
2lb of boneless skinless chicken meat
1 big onion
1-2 eggs
1 1/4 cup of shredded cheese of your choice
1.5 cups of heavy cream
4 garlic cloves
Ground black pepper to taste
Salt to taste
How to prepare, step-by-step:
Enjoy!