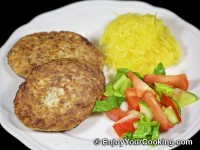 There are many recipes in Ukrainian cuisine for Hrechanyky – meat and buckwheat patties.
All of them use some sort of meat (chicken, or pork, or beef, or a combination of these) which is being mixed with boiled buckwheat and some other ingredients; patties are either baked or fried, and then served either plain or with some kind of sauce. So, there are many variations.
In this recipe I used ground chicken, patties are fried and served without any sauce. Simple recipe I would say. If you are grinding chicken meat yourself, you can do it together with onion, that way there is no need to grate it.
Serve hrechanyky warm or cooled down with vegetable side or on a bread bun.
Ingredients:
1.5lb of ground chicken meat
2 cups of boiled buckwheat
1 onion
1 egg
Ground black pepper to taste
Salt to taste
Flour, about 3/4 of cup
Oil for frying
How to prepare, step-by-step:
Enjoy!
One Response to "Hrechanyky (Ukrainian Buckwheat Fried Patties)"