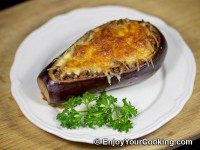 Fun recipe to play with: eggplants stuffed with ground beef and vegetables. Nice combination of meat and veggies. I love eggplants!
For me it is always a bit tricky to hollow eggplants out, it is important to take most of pulp off to make sure they cook through, but it is also important to to not damage eggplant skin. It takes a bit of time and practice.
You can take bigger eggplants and slice them in half lengthwise, or take smaller ones and slice top part off like I did for this recipe.
Ingredients:
3 medium size eggplants
1lb of ground beef
3 roma tomatoes
1/2 red bell pepper
1 onion
Small bunch of fresh parsley
Ground black pepper to taste
1/2 cup of shredded cheese
3 garlic cloves
Paprika to taste
Salt to taste
1/2 cup of water
Oil
How to prepare, step-by-step:
Enjoy!