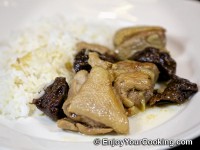 As I mentioned before, I love duck meat dishes. And, as it looks to me, not many people cook ducks in this part of the globe.
So here is my contribution to promote that kind of meat: a recipe for duck stew with prunes. The recipe calls for whole young duckling, but duck breasts or/and legs can be used instead.
Cast-iron cooking pot is the best for this kind of stew if you have one.
Ingredients:
Whole young duckling, 5-5.5lb
0.75lb of pitted dried prunes
2 onions
Ground black pepper to taste
Salt to taste
How to prepare, step-by-step:
Enjoy!