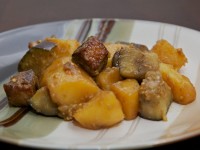 I love duck meat. And other day we were lucky to find a couple of duck breasts in Market District opened recently near by (nice store by the way).
So, I got them, also eggplant and some potatoes, and cooked this nice dinner.
Any duck meat will work just fine for this stew, I was just lazy to remove bones.
Ingredients:
1.5 lbs of boneless duck (I used 2 duck breasts)
3 lbs of potatoes
1 medium eggplant
3 garlic cloves
Vegetable oil
Salt
How to prepare, step-by-step:
Enjoy!
2 Responses to "Duck Stewed with Potato and Eggplants"