Ukrainian Tomato and Cucumber Salad with Sour Cream Dressing
March 12th, 2011 in Salads by Julia Volhina

Total cooking time:

30min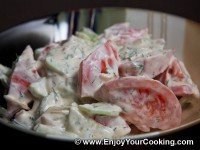 This simple salad with tomatoes and cucumbers is very popular in Ukraine, and I don't see any reasons why it wouldn't be liked in any other country which grows tomatoes, cucumbers, dill and sour cream with onions and garlic.
As opposite to summer salad with tomato and cucumbers with vegetable oil based dressing, this one uses sour cream and mayonnaise.
If you are trying to cut on calories – use mix of sour cream and low calorie yoghurt, or just yoghurt as a base for dressing, but, believe me, this salad tastes the best with real sour cream.
Ingredients:
2 medium size tomatoes
4 baby cucumbers
½ of small red onion (I've used 1 shallot instead)
1-2 garlic cloves
Fresh dill
3 tablespoons of sour cream
2 tablespoons of mayonnaise
Ground pepper
Salt to taste
How to prepare, step-by-step:
Enjoy!
16 Responses to "Ukrainian Tomato and Cucumber Salad with Sour Cream Dressing"