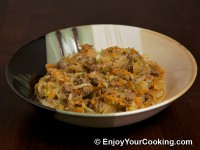 Lazy cabbage rolls, or "lenyvi golubtsi" how this dish is called in ukrainian, is an easier version of ukrainian cabbage rolls.
Since it doesn't require assembling of rolls it is much easier to prepare, and taste is very similar to cabbage rolls.
Lazy cabbage rolls taste great when seasoned with a bit of chopped garlic and a bit of mayo.
Ingredients:
1.5 lb ground beef
3 – 3.5 lb cabbage
2-3 carrots
2 big onions
3 roma tomatoes
Fresh dill
Vegetable oil (sunflower oil)
Ground pepper
Salt
How to prepare, step-by-step:
Enjoy!