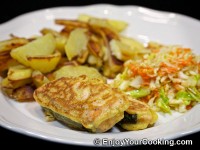 Salmon fried this way turns out juicy. All you need is salmon, eggs and flour to make batter. Amount of flour may vary – just add flour until batter gets desired thickness.
Fried battered salmon is a good choice for lunch or dinner; tastes good with potato as a side dish: fried or boiled.
Serve fried salmon as soon as it is cooked – it tastes better straight from the frying pan.
Ingredients:
1-1.5lb of salmon fillet, boneless
3 eggs
1/3 -1/2 cup of flour
Ground black pepper
Salt to taste
Oil
How to prepare, step-by-step:
Enjoy!
15 Responses to "Fried Battered Salmon"