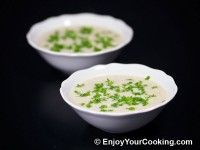 If you have hand blender this is a soup recipe to try for you: pureed chicken in vegetable broth thickened with flour and beaten eggs.
Hand blender works great to mince chicken meat as well as to break any knots in flour feeling (if needed).
Stand blender or meat mincer will work as well, just mince meat with a bit of broth before adding it to the pot.
Ingredients:
2 cornish hens, or young chicken about 2-2.5lb, cleaned
2-3 carrots
2 parsnips or parsley roots
A slice of celery root
1 onion
1/2 cup of all purpose flour
2oz of butter (1/2 stick)
2 eggs
Juice of 1 lemon
1/2 teaspoon of ground black pepper
Salt to taste
How to prepare, step-by-step:
Enjoy!