Cabbage and Carrots Salad with Oil
March 31st, 2012 in Salads by Julia Volhina

Total cooking time:

15min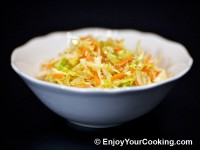 As you probably guessed already, this simple salad consists of two main ingredients: cabbage and carrots, dressed with oil (I take sunflower oil for this one), ground black pepper and celery seeds (both of which are optional), and salt.
It takes about 15 mins to prepare this salad. It can be served as a side dish or an appetizer. It also works good for a snack when you need to make something tasty fast.
Leftovers can be stored in fridge for a few days, salad doesn't lose taste with time.
Ingredients:
Small cabbage head or a part of it, about 1lb
2-3 carrots
1/3 cup of sunflower oil
Celery seeds to taste
Ground black pepper to taste
Salt to taste
How to prepare, step-by-step:
Enjoy!
2 Responses to "Cabbage and Carrots Salad with Oil"