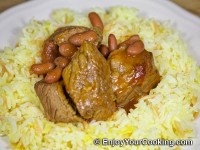 If you are looking for quick recipe with meat – try meat stew with beans.
It is pretty quick and is not too complicated to do: cooking time will depend on the meat cut you use, but in average it is between 30 and 45 mins.
I used beef (chuck roast cut) for this one, but pork will work for this recipe as well.
Ingredients:
2-2.5lb of beef meat (I used chuck roast cut)
A can of boiled red bean (plain, not in sauce)
2-3 cloves of garlic
3 tablespoons of tomato paste
1-1.5 cups of water or broth
3 tablespoons of olive oil
Ground black pepper to taste
Salt to taste
How to prepare, step-by-step:
Enjoy!
2 Responses to "Meat Stew with Beans"