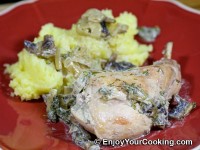 Rabbit meat is considered to be lean and overall healthy meat option. We were cooking rabbits pretty often at home in Ukraine. But here in US I was never lucky enough to see one in store.
This seem had changed recently: both, Whole Foods and Giant Eagle Market District in area where we live, now started carrying young rabbits (I hope it isn't some kind of trial).
So I couldn't resist, bought one and decided to share this simple and yet pretty tasty recipe for rabbit stew with mushrooms and sour cream. I hope you like it as much as I do.
Ingredients:
One young rabbit (3-4lb, can be more), divided in portion pieces
About 1lb of mushrooms
1 big onion
10oz of original sour cream
Bunch of green dill
Ground black pepper to taste
Salt to taste
Oil
How to prepare, step-by-step:
Enjoy!