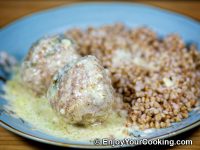 Not so complicated recipe for meatballs, will take roughly an hour to cook and will produce quite a lot to eat after.
These meatballs taste great straight from the oven or reheated later on. Pair well with mashed potatoes, pasta or grains (like boiled buckwheat here for example).
Trickiest trick here is to not burn the sauce while cooking, just make sure cooking temperature is low enough for light simmer and stir pot from time to time, using thicksided cooking pot or a deep cast iron skillet is a good option too.
Ingredients:
2lb meat (50×50 pork and beef mix or other to taste)
1/3 cup of rice
2 medium size onions or a big one
1/4-1/3 cup of cold water
1/4 cup flour for sauce + more for dusting
Milk 2-3 cups, to taste
2 tablespoon of butter
2 bay leaves
5-7 allspice peppercorns
7-10 black peppercorns
Dry dill to taste
Ground black pepper to taste
Salt to taste
Oil for frying
How to make, step-by-step:
Enjoy!