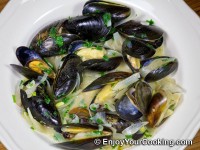 This is a recipe for tender mussels steamed with shallots, garlic and fresh greens in dry white wine and butter sauce. It will work great for a romantic dinner.
Use good white wine you would drink yourself for this recipe to achieve best results. And serve remaining of the wine along with mussels later.
Steamed mussels go great with toast garlic bread or a baguette with garlic.
Ingredients:
2lb of fresh mussels
2-3 big shallot onions
3-4 garlic cloves
1.5 tbsp of butter
0.75 cup of dry white wine
Bunch of green onions
Bunch of fresh parsley
How to prepare, step-by-step:
Enjoy!