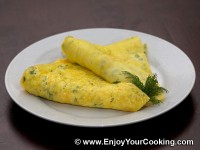 Easy to do breakfast for two (or more, if needed) – omelette with sour cream seasoned with shredded cheese, chopped dill and green onions.
This omelette is good as it is, as well it can be used as a base for various stuffing.
This recipe doesn't require flour (is gluten free); amounts of sour cream, cheese and greens can be varied to taste.
Ingredients:
3 eggs
2 tablespoons of sour cream
1-2 tablespoons of shredded cheese
A stem of fresh green onion
Several leaves of fresh dill
Salt to taste
Butter
How to prepare, step-by-step:
Enjoy!
9 Responses to "Omelette with Sour Cream and Cheese"