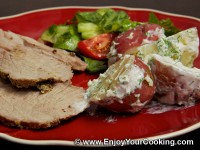 This veal roast is a good choice for romantic or family dinner. Meat can be prepared for cooking in advance, like a night before, and then roast day after. That will make meat even better marinated.
I think veal is the best for this recipe, but since veal is hard to get and can be quite pricey – beef can be used as well. If you choose to cook beef – increase roasting time a bit.
Veal roast can be served warm straight from the oven, as one piece or spiced into portions. It also tastes good cooled down.
Ingredients:
2.5lb-3lb boneless veal chuck roast
4-5 cloves of garlic
2-3 tablespoons of mustard
1/2 teaspoon of ground black pepper
1/2 teaspoon of ground coriander
Salt to taste
How to prepare, step-by-step:
Enjoy!
7 Responses to "Veal Roast with Mustard and Garlic"