Cabbage and Chicken Salad
January 8th, 2011 in Salads by Julia Volhina

Total cooking time:

1h 00min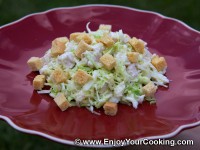 I love cabbage. It is available in the stores whole year, and it somehow manages to preserve such important nutrient as vitamin C (and some others) till late winter. This makes cabbage a good choice of food when your body particularly needs more vitamins.
I consider this a winter salad: cabbage is available any time in the store, as well as chicken and cheese; but it will also taste great when prepared from fresh young cabbage, which is much softer and more juicier.
Additionally, I usually season this salad with dry bread cubes right before serving. I prepare them myself from leftover bread: just dice it and dry in the oven (can't call them croutons, as they don't have any seasoning or oil added in the process of preparation). But I guess you can use croutons from the shop instead or skip this part all together.
Ingredients:
0.5lb boneless skinless chicken breast
1 lb white cabbage (about ½ of small head)
½ cup of shredded cheese (I've used mozzarella)
About cup of dried bread cubes or croutons (optional)
Mayonnaise
Salt to taste
How to prepare, step-by-step:
Enjoy!