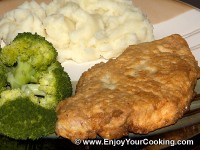 Schnitzels or beaten cutlets can be prepared of almost any kind of meat: pork, beef, vial, lamb, chicken or even turkey.
The preparation method stays pretty much the same for any of those: you take meat, tenderize it, dip into flour (or breadcrumbs), dip into egg mix and fry. It is that easy!
Of course it is your choice which meat to use: pork is usually more fat and considered less healthy choice before beef, vial or chicken, however beaten pork cutlets are more juicy and tasty, so I prefer to use pork for this recipe.
Ingredients:
5-7 slices of pork sirloin cutlets (about 2.5-3lb in total)
2-3 eggs
2 cups of all purpose flour
Salt
Ground black pepper
Sunflower or olive oil
How to prepare, step-by-step:
Bon Appetit!
5 Responses to "Pork Schnitzels (Beaten Pork Cutlets)"