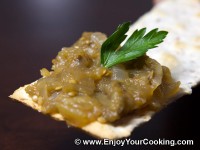 Here is an eggplant paste recipe how my grandma used to do it: all full of vegetable goodness, and I love its taste (still a bit hard to get it taste exactly the way how grandma's is but I am working on it).
Baked eggplant paste makes a perfect side dish for meat or vegetable entrees, as well as it can be a great appetizer – just pour a bit on a whole wheat cracker, or spread it over a piece of bread and get a healthy snack.
Prepared eggplant paste can be stored in a fridge for several days and it tastes good cooled.
PS: I've learned that this recipe is somewhat similar to recipe of Baba Ghanoush (Baba Ganouj) which is popular eggplant dish of Middle East (in Levantine cuisine); wondering where my grandma learned it from…
Ingredients:
2 big or 3 medium eggplants (aubergines)
1 tomato or 1 tablespoon of tomato paste
1 medium onion
1 tablespoon of white vinegar
Olive oil
Salt and ground black pepper to taste
How to prepare, step-by-step:
Bon Appetit!