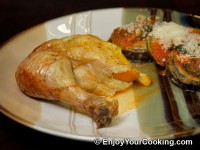 This roast chicken was a first real food we cooked in our new home since the move (yep, we got a house!). So it was kind of the "celebration of new home" meal :).
If you are looking for some easy recipe for some special event – search no more: whole chicken roast stuffed with oranges is very-very juicy and has a bit unusual sweet taste.
It goes good with mashed potatoes or plain boiled rice as a side dish.
If you don't like taste of orange zest – peel oranges before stuffing, that will smooth taste a bit.
Ingredients:
3.5 lb – 4lb whole fresh chicken
3-4 medium size oranges
4-5 cloves of garlic
Ground black pepper
Salt to taste
How to prepare, step-by-step:
Enjoy!
6 Responses to "Whole Chicken Roast with Oranges"