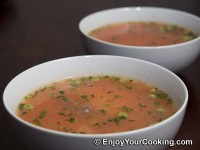 Gentle tomato soup with rice filling garnished with freshly chopped basil is a russian variant of tomato-basil soup.
It is beef broth based and if you want to make it more tomaty and thick, reduce amount of water you use for broth and increase amount of tomatoes.
I've garnished soup with basil even though it isn't very widespread in Russia, but it gives a nice kick to flavor of this soup. After all basil and tomatoes are the combination which can never taste wrong.
Ingredients:
1.5lb beef for soup bone in
1.5-2lb of sweet tomatoes
1/2 cup of rice
1 cup of fresh or frozen peas
1 medium onion
1 parsley root
1 carrot
A small piece of celery root
Fresh basil
Salt and ground black pepper to taste
How to prepare, step-by-step:
Enjoy!