Carrots, Raisins and Ginger Salad
March 22nd, 2014 in Salads by Julia Volhina

Total cooking time:

15min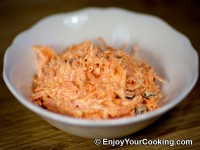 This is refreshing and somewhat spicy salad made with carrots, raisins and ginger.
It tastes great by itself, or with meat or poultry.
You can make salad more or less spicy by adjusting amount of ginger you use: more ginger will make more spicy salad.
Ingredients:
3 big carrots
3 tablespoons of raisins
Fresh ginger root, about 3 inches
Mayo to taste
Salt to taste
How to prepare, step-by-step:
Enjoy!