Carrots, Raisins and Ginger Salad
March 22nd, 2014 in Salads by Julia Volhina

Total cooking time:

15min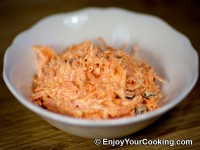 This is refreshing and somewhat spicy salad made with carrots, raisins and ginger.
It tastes great by itself, or with meat or poultry.
You can make salad more or less spicy by adjusting amount of ginger you use: more ginger will make more spicy salad.
Ingredients:
3 big carrots
3 tablespoons of raisins
Fresh ginger root, about 3 inches
Mayo to taste
Salt to taste
How to prepare, step-by-step:
Enjoy! Today we are going to explain the connection of the temperature and humidity sensors DHT11 and DHT22 to the Arduino. The chip inside performs analog-to-digital conversion and outputs a digital signal, which can be read by any microcontroller. DHT11 & DHT22 Sensors are not very fast or accurate, but they are simple, inexpensive and great for teaching. They are made of two parts – a capacitive humidity sensor and a thermistor.