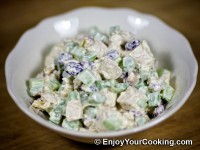 This is a recipe for chicken salad made with crunchy walnuts and celery, dried cranberries and dressed with mayo.
It is pretty easy to do. All you need to do is to boil and dice chicken, slice celery and add rest of ingredients together.
This salad can be served as it is or on a bed of lettuce leaves as a salad entree. It also can be wrapped in a tortilla or served in a bread sandwich.
Ingredients:
1.5-2lb of boneless chicken breast meat
1 cup of dried unflavored cranberries
3/4 cups of walnut nuts
4-6 celery stalks
Mayo to taste
Ground black pepper to taste
Salt to taste
How to prepare, step-by-step:
Enjoy!