Tag:
cranberry

(Page 1 of 1)

November 14th, 2009 in Beverages, Non-alcoholic by Julia Volhina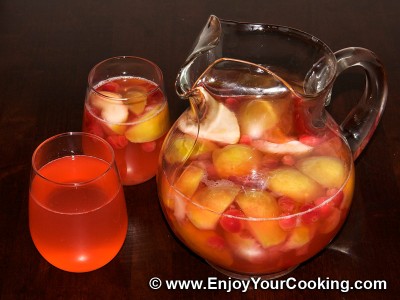 Most of you probably wonders what the "kompot" is, as that is not very usual word in english speaking world. Some of you may also assume there is a grammatical error in the title of this post and I probably mean the apple & cranberries compote (stewed fruits, the dessert), however there is no error: kompot is a drink made of stewed fruits and/or berries, fresh or dried, or a combination of those, and it is traditional drink in many countries of Eastern Europe.
Making kompot is almost effortless, it takes not more then 20 mins (if you don't count cooling down time in) to get great fruit and healthy drink for you and especially your kids and I believe they will like it much more than those powder-produced drinks from bottles and cans people drinking so much nowadays.
Autumn is a time when fresh apples and cranberries are in every grocery shop and supermarket, Apple & Cranberry Kompot is one of easy way to prepare those two together and it goes good with Apple Cake.