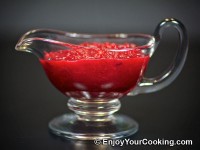 Cranberry sauce seem to be one of traditional dishes served on Thanksgiving dinner.
Since I didn't have many of these (being in US for about 4 years now and not having family here) I had to do a bit of research to find a recipe.
I apologize in advance if the recipe doesn't look too traditional. Please, feel free to share yours in comments, I promise to try them out!
Ingredients:
1lb of fresh cranberries
1 big orange
1 onion
3 tablespoons of honey (can be replaced with sugar to taste)
1/2 cup of red wine
1 tablespoon of olive oil
How to prepare, step-by-step:
Enjoy!