Fried Broccoli Side Dish
January 4th, 2009 in Sides by Julia Volhina

Total cooking time:

30min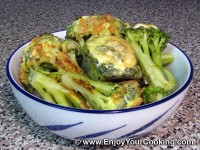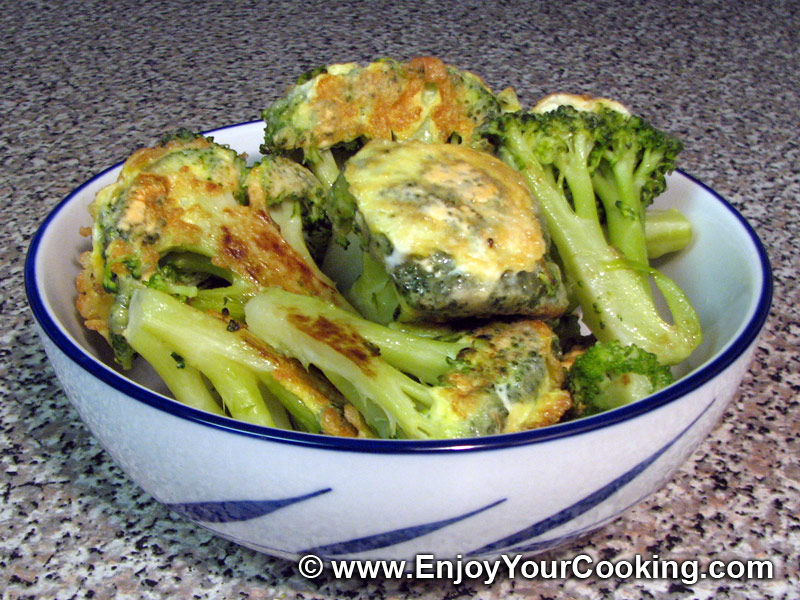 You may want to try frying broccoli in eggs and flour if you find taste of boiled ones not that exciting. It is not much harder to prepare but it has more rich taste.
Amount of eggs and flour will depend on size of broccoli crowns, so numbers I've listed are approximate.
In this recipe plain flour can be replaced with bread crumbs or a mix of bread crumbs and parmesan cheese if you are adventurous.
Serve fried broccoli as a side dish or an appetizer.
Ingredients:
3 fresh broccoli crowns
2-3 eggs (depends of size of broccoli)
1/2 cup flour
Salt by taste
1-2 tablespoons of butter, can be replaced with olive oil if you don't like butter
How to make, step-by-step photo recipe:
Wash broccoli crowns under cold water and cut them as it is show at the following photo:

Fried Broccoli Recipe: Step 1

Fill cooking pot with water and put it on the burner on moderate heat. When water begin to boil put broccoli to the pot and after water begins to boil again correct the heat. Make sure water isn't bubbling too active, that may make broccoli to soft. Let it boil for about 10 minutes:


Fried Broccoli Recipe: Step 2

While broccoli are being boiled take small bowl, crack there eggs add salt to the eggs:


Fried Broccoli Recipe: Step 3

When boiled broccoli are ready (approx. after 10 minutes of boiling) put them to colander to let them cool and remove water:


Fried Broccoli Recipe: Step 4

Mix eggs till the state shown on the photo below, take another small bowl and put there flour.


Fried Broccoli Recipe: Step 5

After broccoli got cooled enough for you to take them by your hand, warm up frying pan on the moderate heat and put butter (or oil, whatever you are using) on it. Using butter will make taste better, so I prefer butter before oil, but that is matter of personal preference.

Take piece of broccoli, deep it to flour first and then to beaten eggs and put to the warmed by now frying pan. Repeat it for each piece of broccoli you've prepared:


Fried Broccoli Recipe: Step 6

You need to fry each broccoli piece from each side till eggs are ready. Correct the heat if you see your broccoli are getting too dark comparing to the following:


Fried Broccoli Recipe: Step 7

Move each piece from pan to plate/bowl once it is fried enough from each side. Please note what time for preparation of different pieces may be different. So you need to see when it is ready by yourself.


Fried Broccoli

Once you fried all your broccoli it is ready to be served. It tastes good after cooled till the room temperature as well.
2 Responses to "Fried Broccoli Side Dish"