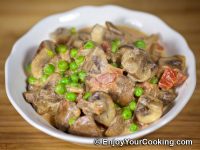 Little something without the meat: mushrooms cooked with peas and tomatoes in tomato juice and sour cream sauce.
It takes about 30 mins to cook, and pretty easy too. Just use good tasting canned tomatoes with no extra additives.
Serve mushrooms and peas as a dish on its own, or in addition to healthy grains or pasta. My favorite here is boiled buckwheat, but they I am a bit biased towards it.
It can even be a sauce for meat, if you wish it.
Ingredients:
24oz of baby bella mushrooms
2 cups of peas
2 onion or a big one
1 can of diced tomatoes in juice
Two tablespoons of sour cream
Black pepper to taste
Paprika to taste
Dried dill to taste
Salt to taste
1 tablespoon of oil for frying
How to prepare, step-by-step:
Enjoy!