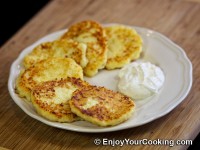 This is my attempt to adjust russian fresh pancake recipe to use domestic ingredients. Main ingredient – russian fresh white cheese – has much thicker consistency than cottage cheese which you can usually buy in the store.
By the advice of one of this blog readers, I tried cottage cheese produced by Friendship brand and the result turned out pretty good. Main challenge was to find a proper amount of flour, with about half of cup pancakes turned out very tender, but not too hard to handle.
If pancakes break when you try to flip them, make them smaller, these will be easier to handle. Enjoy for breakfast of brunch!
Ingredients:
16oz small curd cottage cheese
1 tablespoon of sugar
Vanilla sugar to taste
1 egg
1/2 cup of all purpose flour
Salt to taste
Oil for frying
How to prepare, step-by-step:
Enjoy!
5 Responses to "Cottage Cheese Pancakes"