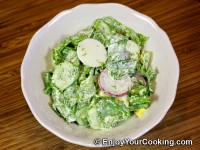 Another spring-envy salad, probably not as light as one would want, mostly because of mayo. But in this one I wouldn't suggest to replacing mayo with sour cream or yoghurt.
It doesn't take much time to prepare, about 15 mins of mostly chopping. Boil eggs in advance, let them cool down till room temperature before adding to the salad.
Prepare this salad right before serving for best taste.
Ingredients:
Bunch of fresh radish
2-3 baby cucumbers
2 eggs
4-5 lettuce leaves
3 stems of green onions
Bunch of fresh dill
Salt to taste
Mayo to taste
How to prepare, step-by-step:
Enjoy!