Tag: radish (Page 1 of 1)
March 23rd, 2013 in Salads by Julia Volhina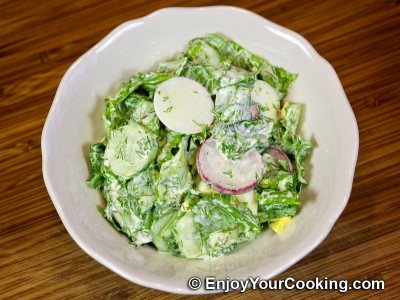 Another spring-envy salad, probably not as light as one would want, mostly because of mayo. But in this one I wouldn't suggest to replacing mayo with sour cream or yoghurt.
It doesn't take much time to prepare, about 15 mins of mostly chopping. Boil eggs in advance, let them cool down till room temperature before adding to the salad.
Prepare this salad right before serving for best taste.
August 29th, 2009 in Cold Soups, Soups by Julia Volhina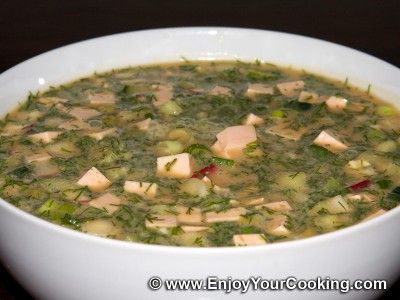 Okroshka is traditional russian cold soup. It is perfect meal for hot summer weather as it is prepared on the base of kvass – russian bread drink – and it is light and very refreshing.
Finding good fresh kvass for okroshka can be challenging outside of former-USSR. You may try russian or ukrainian shop, or, of course, you can prepare kvass yourself. But If you are not lucky with any of these, you can also replace kvass with mineral water, kefir diluted with boiled cold water or even light beer.
March 29th, 2009 in Salads by Julia Volhina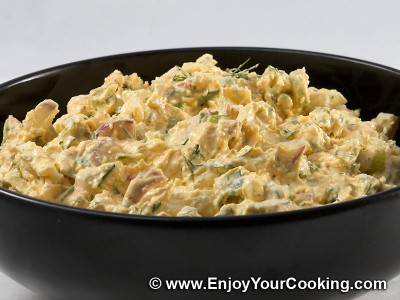 Radish and Fresh Cheese Salad is a tasty way to feed yourself and your family a bit of calcium 🙂
I did have some troubles finding a suitable fresh cheese for this recipe, it should be fresh white quark (russian: tvorog), neither cottage cheese nor cream cheese will work here.
So if you have the same problem finding quark style fresh cheese like I had, try local Russian / Ukrainian / Polish store, most probably they have it. Of course, you can also make homemade soft cheese yourself.