---
There is more than one recipe for varenyky dumplings on this website, if you are looking for some other recipe, try here:
all dumplings recipes
.
---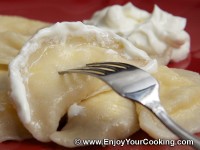 Varenyky with fresh cheese (perogies or vareniki or vareniky with fresh cheese) is one of the traditional Ukrainian dishes for dumplings. You will need fresh white cow milk cheese (quark) to prepare those, which can be a bit hard to find (try some east european store, if that is the case).
To your taste, you can make these dumplings sweet (by adding sugar to cheese) or savory (skip sugar in the filling all together); either kind will taste great with sour cream.
Prepared not boiled fresh cheese dumplings can be frozen up and boiled when you need them; which makes them perfect food for lunch. Boiled dumplings maybe be stored in a fridge and warmed up by frying with a bit of butter over moderate heat.
With described ingredients you will make about 55 dumplings.
Ingredients:

Dough
About 6 cups of all purpose flour
1.5 cups of cold water
1 tbs of salt


Filling
1 lb of fresh white cheese (quark)
1 tbsp of sugar
1 egg
Salt to taste
How to prepare, step-by-step:
Enjoy!
3 Responses to "Fresh Cheese Dumplings (Varenyky with Cheese)"