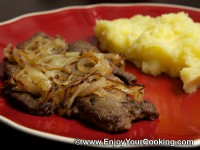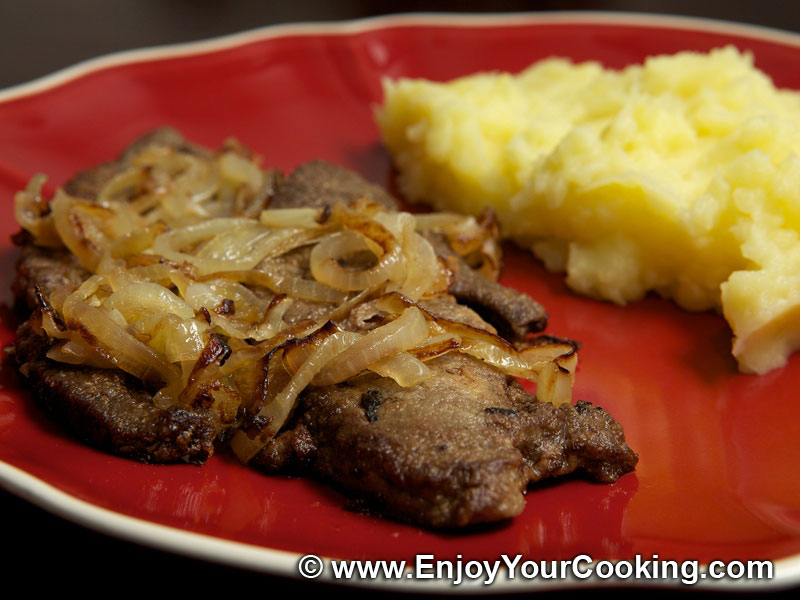 Liver is an irreplaceable source of various nutrients which are very important for human health. It has biggest concentration of a vitamin A comparing to all other food sources; natural source of vitamin D, B12 and C, phosphorus and copper; it is high on protein of animal origin; and the most important, it is rich source of easily absorbed iron – that made liver a part of the treatment for pernicious anemia.
Saying all of that, I was very surprised of how hard it was to find fresh beef liver in a local shops (true to tell I didn't try a local farmer markets, didn't locate any around yet). I am also pretty sure, what liver dishes are not very popular in this part of the earth globe, however they are traditional in Europe: Germany, Russia, Ukraine, and a believe a lot of other countries.
So here is my attempt to fix that: fried beef liver with onions – is perfect lunch or dinner dish, it is very easy to cook and, as I already mentioned above, it is very nutritious. Important tip: do not overcook liver, to preserve as much goodness as you can.
Ingredients:
2 lb of beef or veal liver
2 big onions
All purpose flour, about 1 cup
Sunflower oil
Salt to taste
How to prepare, step-by-step:
Enjoy!
86 Responses to "Fried Beef Liver with Onions"