Tag:
pierogies

(Page 1 of 1)

March 9th, 2013 in Main Dishes, No-meat by Julia Volhina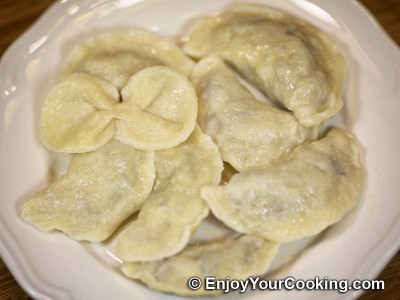 I am maybe getting old: firstly I was putting off this recipe for far too long, secondly after I finished up with assembling these dumplings, I could feel my back.
Nevertheless here is recipe: ukrainian handmade dumplings stuffed with potato and mushroom mix.
You can boil them as soon as they are assembled, or you can freeze them up and boil right before serving. No thawing in necessary.
Already boiled dumplings can be warmed up on a skillet with a bit of butter.
August 27th, 2011 in Main Dishes, No-meat by Julia Volhina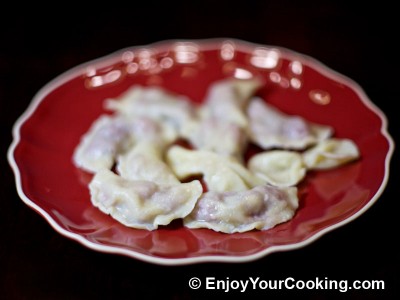 I didn't believe my eyes when I saw sour cherries (pitted!) in the Andersons grocery store. It doesn't happen that often to me here, in US. So I couldn't simply leave that store without my portion of sour cherries…
Of course, we enjoyed them plain with a bit of sugar, and also made some cherries with whipped cream dessert, however most of sour cherries went to ukrainian sour cherry dumplings – "varenyky (vareniky) z vyshniamy", and for this one we made plenty of pictures.
With mentioned amount of ingredients you will get about 50-60 dumplings. Most probably you will not need to cook all of them right away – so just freeze remaining potion of dumplings for later use (first put wooden board with dumplings to the fridge until dumplings are frozen, then move them to a ziploc bag and store frozen). Frozen dumplings can be boiled right before serving, just like you usually do it.
April 17th, 2010 in Main Dishes, No-meat by Julia Volhina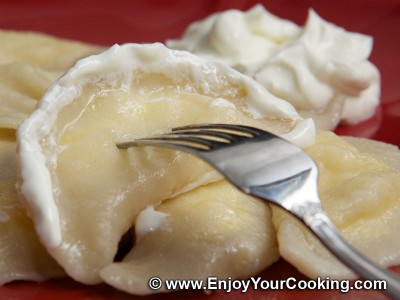 Varenyky with fresh cheese (perogies or vareniki or vareniky with fresh cheese) is one of the traditional Ukrainian dishes for dumplings. You will need fresh white cow milk cheese (quark) to prepare those, which can be a bit hard to find (try some east european store, if that is the case).
To your taste, you can make these dumplings sweet (by adding sugar to cheese) or savory (skip sugar in the filling all together); either kind will taste great with sour cream.
Prepared not boiled fresh cheese dumplings can be frozen up and boiled when you need them; which makes them perfect food for lunch. Boiled dumplings maybe be stored in a fridge and warmed up by frying with a bit of butter over moderate heat.