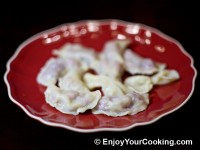 I didn't believe my eyes when I saw sour cherries (pitted!) in the Andersons grocery store. It doesn't happen that often to me here, in US. So I couldn't simply leave that store without my portion of sour cherries…
Of course, we enjoyed them plain with a bit of sugar, and also made some cherries with whipped cream dessert, however most of sour cherries went to ukrainian sour cherry dumplings – "varenyky (vareniky) z vyshniamy", and for this one we made plenty of pictures.
With mentioned amount of ingredients you will get about 50-60 dumplings. Most probably you will not need to cook all of them right away – so just freeze remaining potion of dumplings for later use (first put wooden board with dumplings to the fridge until dumplings are frozen, then move them to a ziploc bag and store frozen). Frozen dumplings can be boiled right before serving, just like you usually do it.
Ingredients:
2lb of sour cherries, pitted
1/2 cup of sugar
1-2 table spoons of butter

For dough:
1 cup of milk
1 egg
3-4 cups of all purpose flour
2 tbsp of vegetable oil
Salt
How to prepare, step-by-step:
Enjoy!
10 Responses to "Ukrainian Sour Cherry Dumplings"