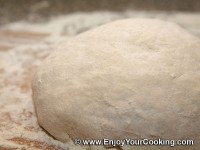 Usually to prepare dumplings you need just 3 things: dough, stuffing and inspiration.
Below you will find simplest recipe for dumplings dough: only water, salt, all purpose flour and some time for kneading are needed to prepare it. And because there is no egg included this dough tastes soft and tender.
As for stuffing it is all up to you, you may cook dumplings filled with one or multiple kinds of minced meat or fish (such as "pelmeni" or "manty") or "varenyky" / "vareniki" or "pierogi" which are filled with sweet (various berries or fresh cheese with sugar) or savory (sautéed cabbage/ sauerkraut, potatoes, potatoes and mushrooms, potatoes and fresh cheese) stuffing.
And as for inspiration – I can't really advice you anything here, but since you are reading this post and decided to cook dumplings, I believe you've already found yours.
Ingredients:
About 6 cups of all purpose flour
1.5 cups of warm water
1 tbs of salt
How to prepare, step-by-step:
13 Responses to "How to Prepare Dough for Dumplings"