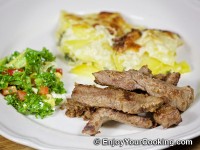 The magic of this recipe is in the fact that you can prepare everything for it a day before and then just fry the meat when the time is right.
You can actually store marinated meat in fridge for longer and just fry a portion you need every time you need it, which may save time eventually.
Results may vary depending on the taste of mustard you use. So use the one you like :).
The same goes for peppers – I used a mixture I had on hands: red pepper, black pepper, white pepper, coriander, etc, but you can use whatever you like the most.
Choose softer cut of beef for this recipe, pork or chicken may work too.
Ingredients:
2lb of meat
3 eggs
1.5 tablespoon of mustard of your choice
1.5 tablespoon of potato starch
1.5 teaspoon of salt (or more or less to taste)
1.5 teaspoon of ground peppers and spaces to taste
Oil for frying
How to prepare, step-by-step:
Enjoy!